Free Lucky 8 Line slot machine
Lucky 8 Line is a functional slot machine with classical symbols and facade made by NetEnt company. Straight lines, square shapes, manufacturable design add it more reliability and solidity. Lucky 8 Line has nine reels and eight lines to set the winning bet. The lines are bet in vertical, horizontal and diagonal directions. Bet per line varies from one to eight coins that equals 64 coins for all bet lines. To get the paying win land three similar fruit symbols on a bet line excluding Cherry. It starts paying while appearing on bet lines set from left to right or up to down on the reels. Nine alike symbols play two wins - special and for chosen bet lines.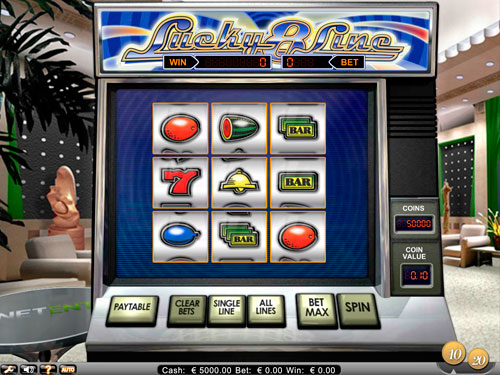 Instructions of Lucky 8 Line slot
Paytable Specials section colored in blue shows symbols locations advantageous for bonus wins in Lucky 8 Line slot. Paytable Specials wins and regular bet line wins are summed up. All winning calculations are made due to Paytable figures whether in currency or coins. Apart from regular wins Paytable Specials wins pay not only on lines chosen.
Screen buttons powered are called to make the game for flexible and easy. Single Line button sets the bet per one line. There are no any special signs like arrow points to fix the bet. Press Single Line button from one to eight times to bet for one - eight lines. All Lines button bets for all eight lines at once. To cancel this option press Clear Bets button. Max bet button grows both bet and coin value to their utmost. For more details check Information section labeled as a question mark. There all information about Lucky 8 Line slot machine rules and settings are available.
Like it?
Tell your friends!