Software developers from the Cryptologic company, inspired by Jules Verne's novel, created Around The World slot game, that soaked up all of the best functions of slot machines combined with the exciting storyline which only a masterpiece by such a prominent author like Jules Vern can breath into the game. If you are fond of literature, then also try Monte Cristo slot machine, based on a famous book.
Back To The XIX Century
The amount of prize you win will depend on number of symbols that fell in payline. There are as much as twenty of them available to bet on in the game. You can switch them on and off just by clicking the button «Lines».On the panel you also have «Stake» buttons where you can add or subtract the value of your bet on each of the active payline. The «Coins» button serves as a multiplier for your bet. For example you can bet 0.10$ on 20 lines with active one coin and the amount of the bet will be 2$. But if you bet 0.10$ on 20 active lines with two coins, total betting sum will be 4$. Playing Around The World slot machine you can reach maximum of ten coins (20$ bet in our example). The «Max Bet» button will place a maximum possible bet with your current stake and will kick the reels turning. The «Spin» button is meant for starting the round.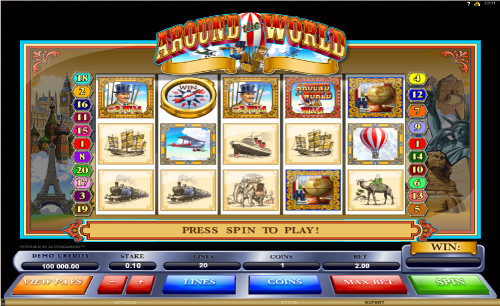 Steam Power Age
Of course this game has such features as Wild and Scatter symbols. There are two kinds of Wild icons (simple and x2 multiplier) and both of them can serve as a substitute for any icons that exist in the game (except for Globe Bonus and Scatter symbols) if they are falling into the payline with them. The Scatters are a totaly different story in this game. They are depicted as animated compasses and each of such symbol multiply your winning by x2. But it's not that simple, to receive multiplication of prize the compass needs to be pointing to the north and only to the north, in other cases you will receive nothing — no matter if you are playing Around The World slot free, or its real money variant. The machine has a unique symbol called Globe Bonus. If three or more fall into your active payline the bonus game starts. The rules for the it are decribed in details in the Payout section (when you press «View Pays» button).
In the era of internet, Tesla cars and space shuttles it's hard to imagine the world where all mechanisms were powered by steam. Thanks to Microgaming software studio you can now for yourself explore this wondrous world of the past. Having read our Around The World slot review, you'll see that in any case playing it will be an exciting journey.
Like it?
Tell your friends!