Monte Cristo slot review
A bit gloomy as it should be according to the plot of the book of all times, Monte Cristo slot by Cryptologic stands out among other free slots as it lacks average paylines and reels. Superb creative idea of making it look like an arcade game still with some simplified online slot machine features is remarkable indeed. Neither Scatter, nor Wild symbols can be found in this slot, still a promising Bonus game is worth trying.
Spins are replaced with ball bounces. The game round consists of 10 bounces. Once you press the Play button, the bouncing ball breaks the walls for you to receive hidden rewards. There are several types of walls: soft, broken or mere. Regular symbols of hidden treasures are treasure chests, coins, keys, huge rings and Victorian masks.
Rewards
The key symbol guarantees 1 bonus round
The pile of letters activates either 5 free games or if you are in a free game mode, 1 extra.
Bomb symbol awards nearby possible wins.
Heart symbol adds three additional ball bounces.
Victorian mask grants one free round.
Pirates sign cancels the current bounce.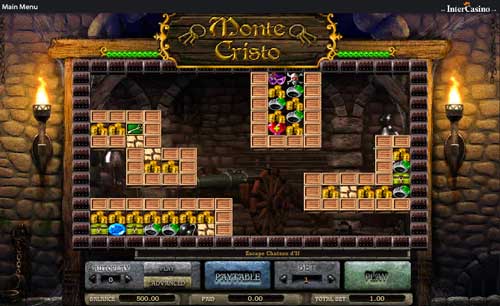 Bonus feature is activated if the Bonus symbol is triggered. You are welcome to discover treasure wins starting the game.
Like it?
Tell your friends!