Play free Viking Age slot game
If you've been dreaming of conquering the world, take a spin at the Viking Age slot and start with Norman conquests! Playing this amazing 3D game you will plunge into the atmosphere of the epoch and find if you are as brave as the mighty vikings. But this challenge isn't all about courage – here you'll have to push your luck and see if you're lucky enough to get all the prizes. If you're not very much into stories of Vikings, check out The Slotfather – maybe a slot themed after Godfather what you'll like more.
Design, gameplay and features
When the game is started you find yourself in the world of battles and wars. But nevertheless there's a place for a charming red-haired girl to support you. Wearing an authentic is gown, she stands on the right from the reels and any time you stop spinning the reels for a while she will start asking you what's taking you so long. In other cases she'll support you. The sound effects complete the atmosphere and you fully plunge into it.
Viking Age slot game boasts of excellent graphics and it's easily seen in every symbol. Each icon that you see in these 5 reels with 30 paylines is carefully drawn with all the details, and when some event involves action, you find that the symbols are also animated.
Speaking about the symbols of Viking Age slot machine, all of them award you different prizes. Icons depicting Vikings are the most lucrative – 100-125 for 2 symbols of a kind on an active payline, 250-375 for 3 symbols, 625-750 for 4 and 1250-1500 for 5 icons of a kind. The symbols depicting their ships, weapons and other attributes of their life pay less but still a lot in comparison to an average slot: 20-75 for 2 icons of a kind, 25-200 for 3, 100-500 for 4 and 250-1000 for 5 symbols of a kind on an active payline.
But this is not all, there are also special symbols in Viking Age slot machine. For example, there's an icon of a funny little mythic creature, and if you receive at least three such icons on the reels, you trigger the Runestone feature which awards you credits or free spins or you can be given an instant access to the bonus game. 3 or more symbols depicting the red-haired beauty trigger the Multiplier Free Spins feature. And the greatest point is the bonus round – it's activated by 3 or more symbols depicting Vikings arm wrestling.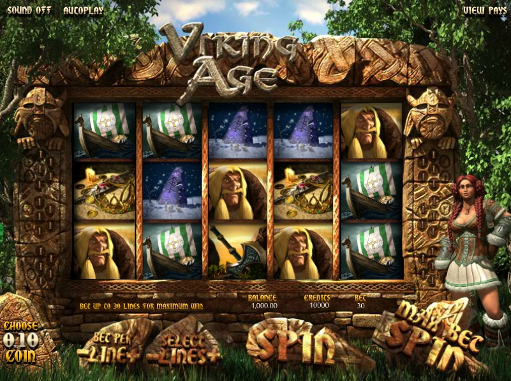 To sum up, Viking Age slot game is has excellent graphics, exciting sound effects, well thought-out plot line, convenient gameplay and high payouts. And it should be emphasized because modern slots usually don't pay for a combination of 2 symbols at all, and the payouts for 3 are ridiculous. But Viking Age will surprise you – just take a spin and you'll see!
Like it?
Tell your friends!