Treasure Of Isis Slot Machine Review
The only one goddess had been worshiped as a patroness of magic and the whole nature. Treasure of Isis slot machine is created in her honor. Many of those gifts were lost over the course of time. Now you are granted with a chance to find rewarding treasures playing an exciting casino game. Oriental theme is also used in another game by Cryptologic - Desert Dreams slots.
Gifts Of The Goddess
The game has a literally brilliant graphics and as all slots designed by Cryptologic has a plenty of options to offer. Let's start our journey from the functional panel where all game's buttons are located. The most usable button is of course «Spin» but for those who don't want to get blisters on their fingers an Autoplay function (where you can choose the number of automatic spins to be made) is always available. The next most important buttons of Treasure of Isis slot game are «Bet» and «Bet Max». By pressing the arrow buttons under the «Bet» title you are choosing the how large should be a stake you want to place on each payline. «Bet Max» is meant to activate all paylines, put the maximum wager (the amount of which you choose previously in «Bet» window) on them and spin the reels. By the way, you can bet on maximum of 20 paylines in the same time. The number of paylines can be reduced and increased by clicking the arrow buttons under the «Lines» title (or the numbers situated on the sides of the screen). «Win patterns» button will show you the winning lines themselves so you will actually see how they are drawn.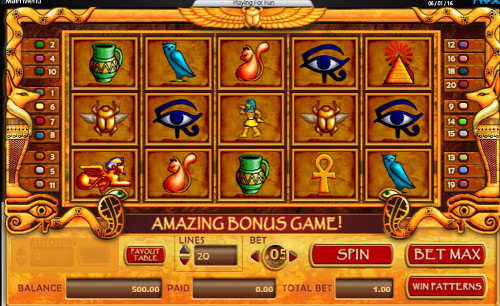 Probably the most important button of Treasure of Isis slot online is «Payout Table». If you click on it the menu which contains a value of symbols combination will be brought up to the screen. There you will see all payouts for all possible combinations. In this slot there is no Wild symbols, only the Scatter one. The Red Ruby represents a Scatter symbol and you shoul gather at least three of them in the games window to be granted with bonus game. During the bonus game you should control a scarab and maneuver him to the question marks which contain the gifts (the amount of the reward is random) of the Goddess.
Lucky Touch Of Isis
She is a very generous goddess and it can bless you with her luck while you playing The Treasure of Isis slots. But it doesn't mean that the practice is out of question. Before depositing money on the account of the online casino, play demo version of this marvelouse game at first. When you will be ready and get acquainted with the gameplay then you can switch to the real online casino.
Like it?
Tell your friends!