Play Spiderman slot machine online
Talking about Spiderman slot game, this game has caught a lot of attention for its features, payouts and the overall theme of the game. The theme is taken from the first franchise of the popular comic and movie series where our hero Spidey comes face to face with the Green Goblin. Based on the comic theme, where the hero always wins, you get a chance to knock the evil villain out, save the city and get hard-earned cash to spend. If you love slots after comics, check out Iron Man 3 slot too.
Gameplay and features
The Spiderman slot machine has several features that keep the player playing for hours. The game can be played for as low as $0.01 a line to $5 a line. So, you can bet from $0.25 to $125 on a spin as it has 5 reels and 25 lines. The player can raise or lower the amount of bet as he likes. Then it has auto-spin that automatically spins the reels for the selected number of times and turbo feature that spins the reel quickly.
The game has 7 other features, 2 mystery, 2 cash bonuses and 3 features that allow free spins. It also allows auto-spin until one of the feature is activated. The reels have different symbols, the wild one out of them helps in making combinations increasing the chances of winning.
The primary deal in Spiderman slots game is in the Spiderman collections bonus feature that allows the player to start with 10 free spins. The Spidey symbol freezes the counter and increases the multiplier by 1x and the Goblin defreezes it also lowering the multiplier. This feature can get a lot of cash in your bank with only a few spins, which can go up to 40x of your bet.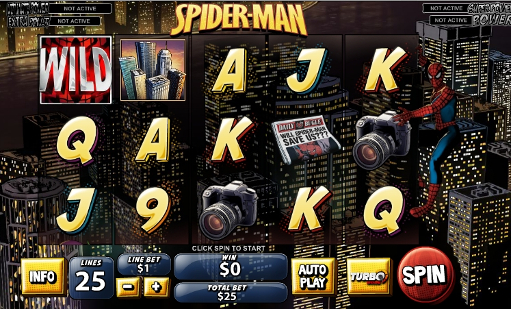 Because Spiderman is one of the most popular super heroes, this game can be a lot of fun and might give the figures in your bank a real spin you never imagined.
Like it?
Tell your friends!