Pink Panther slot online
Those who spent their childhood in the 80s surely remember a cartoon character called Pinky, better known as Pink Panther since that was the famous cartoon's name. The Pink Panther was wildly popular and themed goods came in all shapes and sizes – printed on bags, wallets, clother, toys, bedding and of course kids were playing computer games with Pinky. Now, as the time passed, the pink wave rushes into gamblers' lives with an awesome online slot by Playtech company - Pink Panther slot machine.
Pink Panther slot description
There are 5 reels and 40 paylines where you'll meet favourite characters: Pink Panther is the wild symbol, if 5 of them appear on the reels you get a Jackpot. Inspector Clouseau follows the panther with a spying glass passing different symbols: bombs, buckets with pink paint and colourful play cards. Pink Panther logo is the scatter symbol. Our hero can't live without adventures and from time to time will come up with new games for you. There are 5 extraordinary games that are triggered randomly:
1) Crack the Pink Code – Are you ready to open a safe? Now go on – choose 10 safes from the range on the screen. Some of them contain wild symbols, multipliers, others – Clouseau with a bomb. If you find the inspector don't be sad, you'll get 2 free spins and start the next part of the bonus game – you may get up to 29 spins with 2x multiplier!
2) The Color Pink – The panther loves everything pink so you'll have to help her paint the fence. The task is easy – complete it before the inspector, who'll be painting blue. You get 3 attempts and in case of success your win will be gorgeous.
3) Pink Trail – Your aim is not to get into the inspector's traps, so that he doesn't make progress in his investigation and you get prizes. The smallest mistake will cost you half of your win but if you do everything right you'll get a big diamond and your win will be doubled.
4) Wheel of Pink – accompanied by the sounds of solemn music you'll make spins. The main goal is to receive Respin as often as possible – this game won't leave anyone without a reward.
5) Pink Pow – a nice bonus that will be triggered randomly. Emotional outburst is guaranteed when suddenly all icons on the reels turn into the wild symbols.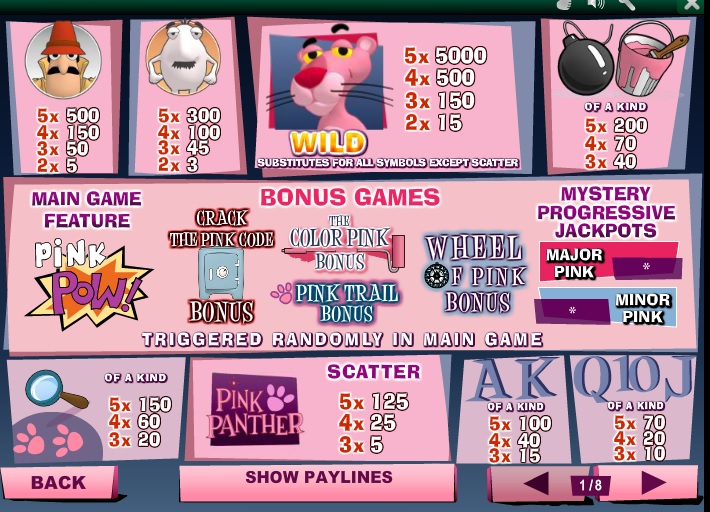 Another feature worth noting is the risk-game since it gives extreme experience and triggers crazy adrenaline release. You need to guess the correct card that will not be lower in value than the dealer's card.
In general this slot is a brilliant alternative to any gloomy or excessively serious slot. Travelling with the panther and the inspector is always funny and profitable. Numerous bonus games make a usual spin interesting and fascinating.
Like it?
Tell your friends!