Magic Slots review
Let a little bit of magic into your life!
Many people crave to master magic, because it promises power and wealth. However, not every one has abilities that could help him perform miracles and fulfill the cherished desire. Such people are hard to find and meeting them is almost impossible. But there's no reason to be sad – Playtech offers you to feel the charm of the power of magic with the Magic Slots – just take a spin!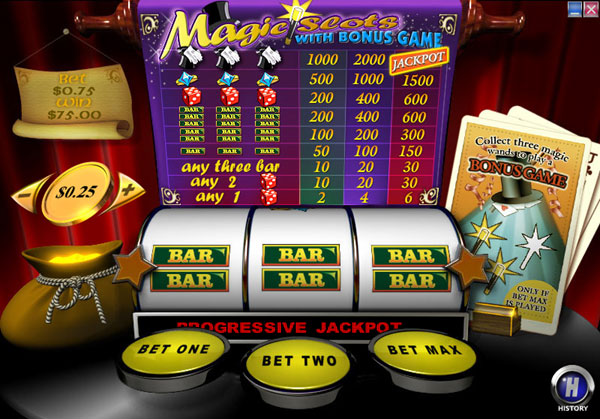 A magic slot with magic features
Classics will always be popular, this online video slot proves the idea. It's simple in its functions but attracts lots of people who get tired from the abundance of multifunctional slots and prefer to relax playing a calm game but no less interesting. Just as the original one-armed bandit this slot has 3 reels and a single payline. Each symbol is beautifully drawn, which indicates the high professionalism and responsible approach of the artist. Among the symbols of Magical Slots you will see a magician's hat with white gloves, a diamond ring, a magic wand, dices, one-bar, two-bars and three-bars.
The game features scattered symbols but that's not the only advantage in comparison to other classic video slots – collect 3 magic wands to play a bonus game! But note that it can only be triggered when the bet is max. As well as the jackpot can be only won wagering the max bet. But given that it's a progressive jackpot it's definitely worth trying, so if you're looking for a classic entertainment, go for it!
Like it?
Tell your friends!