Play Magic Princess slot machine
The Magic Princess slot machine takes you into a world of magic, enchantment, and castles where, perhaps, fairy tales may also come true. With the player being helped to the jackpot by the title character herself, this Novomatic game is both imaginative and potentially lucrative. Provided that you can learn the rules of the game, of course. Check out some more gaminators by Novomatic if you like this game - Lord of the Ocean slot, for example.
Getting Started
A benefit of this game is that although there's no questioning the creativity of the theme, it doesn't do anything outlandish with its design. If you play the gamel be getting the same 9 payline and 5 reel deal that you'd expect from many other slots. In addition, the panel beneath the action lets players get information, adjust the number of lines, and tweak the value spent, while also allowing for full control of when the game starts.
Symbols and Payouts
Figures aren't entirely what you'd expect in this slot with black cats symbolizing good fortune while peacocks also mean the same, but for the most part it's actually quite straightforward. Combinations are read from left to right and as the player travels through the castle, The Princess is extremely useful since she can doubles your winnings and can be substituted for any ball (except the magic pearl).
Specific payouts will vary depending on the value of your bet, but fortunately, this is easily double-checked with a click on the "info" button.
Features and Bonuses
When playing the Magic Princess slot free spins are a very real bonus. The scatter, symbolized by the magic pearl in this game, is worth 15 free spins. If you hit another scatter during your 15 spins, you get another free 15 all played at the bet amount you started with when you landed the scatter. In addition, the Princess, who is the wild, is worth 9,000 credits if she's pulled up enough times. Put simply, winning opportunities abound.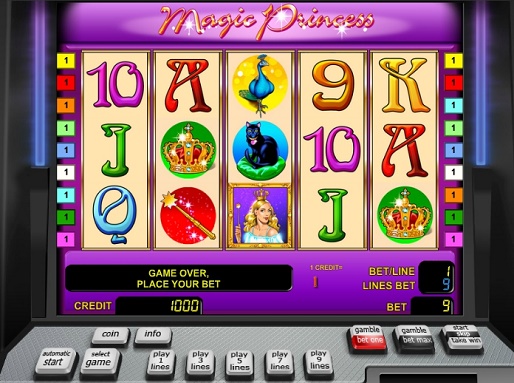 Essentially, the Magic Princess slot game has both an intriguing plot and a winnable premise. It's a fantastic all-around play.
Like it?
Tell your friends!