Lucky Drink slot for fun
Have you ever drunk so much that you saw non-existing things? Alas, such situations do happen. Playing Lucky Drink slot gamblers can feel dizzy only from big wins. Remember also Oliver's Bar slot.
Lucky Drink is a standard slot machine with 5 spinning reels and 10 symbols. All of them are associated with alcoholic beverages and snacks, as it follows from the slot's appellation. Symbols which bring minimum winnings are a candle, a hat and fish. They multiply bet by 2, 10 and 50 times. A box with beer, a glass of beer and a cat with vodka multiply the bet from 10 to 100 times. The most profitable symbols are a barrel, a waiter and a waitress. Combinations matched of these symbols multiply your win by as much as 10000 times!
Exclusive bonuses in Lucky Drink online slot
Unlike many other slots, Lucky Drink offers only 1 bonus. It is an exciting mini-game, during which the player has to guess the correct beer barrels and avoid attacks of evil powers. If 3 or more characters depicting red devil and the inscription «Bonus» are matched you proceed to the larder. There are 5 barrels there. You can use the «Line 1», «Line 3», «Line 5», «Line 7» and «Line 9" buttons in order to open those barrels that, in your opinion, may bring you victory.After each successfully collected combination you have the opportunity to go on doubling and further multiplying your gain. Just click the «Double» button at the end of a successful spin and move into a special bonus game. There 5 cards on the table. One of them is a dealer's card. Use the «Line 3 », «Line 5 », «Line 7 " and Line 9 " buttons to open the desired card. If its value will be higher than the dealer's card, you will receive a bonus multiplier.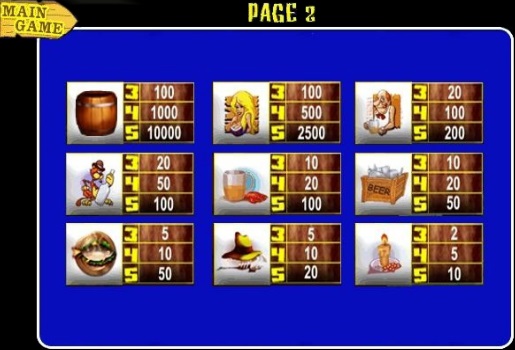 In order to start, define how many credits you are ready to put on the line. You can regulate the rate with Bet One» button. The minimum bet per line is 1 credit, and the maximum bet is 25 credits. Next, choose the number of lines. The more lines - the better. The minimum number of lines is 1 and the maximum - 9.
Like it?
Tell your friends!