The Illusionist slot machine
The lights in the shining hall go out, the crowd's noise calms down, the curtain opens... Her Majesty Magic confidently puts her hand over the hand of the Illusionist. Wearing a dark coat and a top hat, he bestows his best smile on the spectators, makes a bow, and opens up the door to the world of mystery... Let the magic begin!
The real features of the Illusionist
Hands of the prestidigitator are scatters in this gaminator. They appear only on the first and the fifth reels. If these reels are all covered with the images of the scatter, then 15 free games are triggered. Note that you'll now spin only the three reels in the middle, and the two outer stay fixed during all of the free spins.
As your hand performs magic reel spins, different mysterious symbols show up one after another: a flying dove, a rabbit out of a hat, a mysterious prestidigitator, shining letters and figures. And what's surprising, the design of this marvelous slot is actually really simple, some might even say it's dull in comparison to the latest ones, but others will find it beautiful enough to make you plunge into the atmosphere of the show.
Another nice point about Illusionist slot game is its gameplay – you always have the ability to change the number of active reels or use the autoplay function. But what's the most interesting is the risk-game – a player wishing to push luck may try to double his win after any successful spin, just choose the correct colour of the card.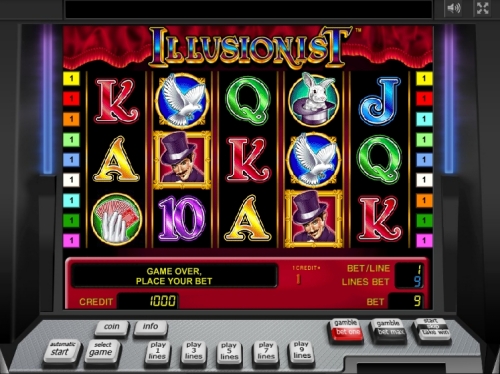 To sum up, in general the game is quite simple – the design, the features and the sound effects are not much different from other gaminators but when you take your first spin you see why it's so popular with gaminator series fans. Go on and see for yourself if it's really so exciting and whether you'll plunge into the atmosphere from the very start!
Like it?
Tell your friends!