Bermuda Triangle
A high-quality slot by Playtech that will impress fans of classic one-armed bandits and will leave no gambler indifferent.
The game is full of unusual symbols that a brave sailor could find in the Bermuda Triangle – starting with mysterious ships, ending with airplanes with a single passenger, terrifying sharks, dolphins having fun and menacing octopus. The symbol that will help you win the grand prize is the ghost ship that looks as if it came to us from another epoch. All this creates a wonderful mystical atmosphere and makes you want to get lost in Playtech's Bermuda Triangle slot machine.
If you love more cartoonic games based on fairytales, enjoy Ocean Princess slot online.
Symbols of the game
The game has a nice "any three" feature – collect several such combinations and get a specific award each time. What's more, you can press "autoplay" button and just sit and relax watching the reels spinning. The min bet is extraordinarily low, so that low-rollers will be definitely pleased. But if you wish, make the max bet and get a chance to win a jackpot of 1000 credit! In general, the payout table may look a bit complicated, but actually it's very simple and easy to understand. Mystical ships appearing on the reels can bring you the biggest prize – the jackpot – or pay 400 coins. Other combinations of 3 planes will give you 150 coins, 3 ships in any combination – a hundred coins, 3 sharks – 75, 3 orange octopus - 50 coins and 3 romping dolphins – 25 coins, and finally any combination with sea creatures ensures marine creatures you get paid 10 coins.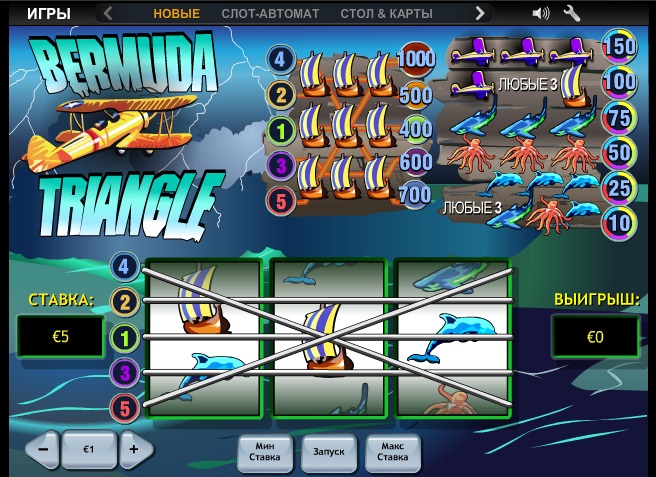 To sum up, complicated lines and unusual graphics make Bermuda Triangle a very interesting pattern of classic one-armed bandit for all players. Bright colors, mysterious symbols and cool marine symbols make you want to return to it over and over again.
Like it?
Tell your friends!