Play Bananas Go Bahamas slot online
Well this is a bit crazy. But I suppose that's the point isn't it. Bananas Go Bahamas or to put it another way, Go Bananas in the Bahamas. Fortunately it's a slot game so you won't have to spend the air fare, you've just got to pile in a few credits and spin the wheels. Check some more gaminators here.
Gameplay and features
Played to the max, this is a five reel game with three pay lines running back and forth. If that's a bit too much to cope with or it's eating up too many credits, you can change the number of pay lines or the amount you bet per pay line. You can set it to automatic, or, if you like a sense of control, you can press the start button manually.
It's fruity! There's Bananas naturally and they pay out the most, but there's also pineapples, melons, strawberries and coconuts. And suitcases, just in you were dreaming of that flight and forgotten just how it cost. There's also aces, kings, queens, jacks, tens and nines but they don't may out as much. Understandable given this is Bananas Go Bahamas slot online.
In case you get confused, remember that bananas act as wildcards. They can replace any other symbol in a line – except for suitcases – and if you do get one or more bananas, it doubles the prize. Useful that. But if you do get some suitcases, don't be alarmed because they serve as scatters. If you get three or more suitcases you get 45 more plays.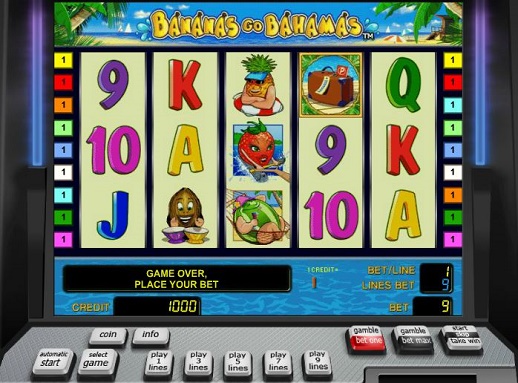 As slots go this isn't bad. It looks confusing and goes pretty fast on automatic, but so do most others when you let them loose. Play Bananas Go Bahamas free, it's worth the time it takes to watch the reels spin and freeze and you only get slightly frustrated when the adverts suddenly appear and block your view.
Like it?
Tell your friends!